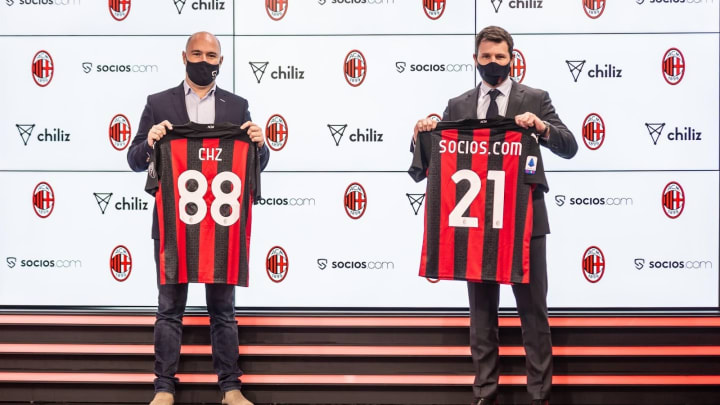 AC Milan have become the latest European giant to join fan engagement platform Socios, joining the likes of Barcelona and Juventus on the blockchain-enabled app.
The Serie A side, often seen as sleeping giants in recent years, have been on a Zlatan Ibrahimovic-led resurgence over the last 12 months and currently sit top of Serie A – leading city rivals Inter on head to head record, with a game in hand.
The app has become more relevant than ever over the last year, with fans unable to go to support their teams in person for most of 2020 and into 2021 thanks to the COVID-19 pandemic – Socios' Fan Tokens allowing fans to connect with their fans from afar.
Socios have allowed fans of Apollon FC choosing the first team for a friendly match and the club's home and away kit for the 2021/22 season, while Juventus fans chose the club's new goal celebration song, decided on a limited edition redesign of the iconic 'J' logo and the first team bus for the 2020/21 season.
Supporters of FC Barcelona placed a fan-designed artwork at the heart of the Camp Nou dressing room, Roma fans delivered questions direct to head coach Paolo Fonseca in a live press conference and PSG fans chose a unique message for the captain's armband as well as voting on their end of season awards through the app.
Fans who purchased 'Milan Devils' Tokens using Socios.com pre-sale feature Locker Room will have their tokens transformed into $ACM Fan Tokens upon launch. Locker Tokens for 'Manchester Blue' and 'The Galácticos' have sold out.
Milan's chief revenue officer Casper Stylsvig said: "We are happy to join hands with Socios.com and welcome them to our family as a global partner. This partnership allows us to give our 450 million fans across the world another exciting way to interact with AC Milan, which is particularly important under the current circumstances created by the COVID-19 pandemic.
"As an innovative club, one of our focus areas is modernization and this partnership helps us complete another important step in that direction."