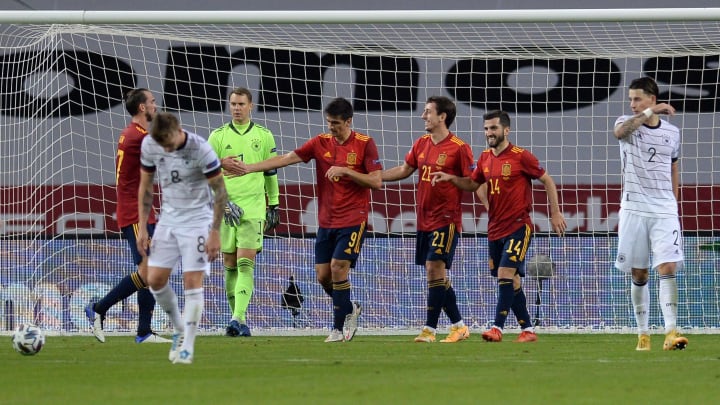 Germany were woeful | CRISTINA QUICLER/Getty Images
Germany came into Tuesday's Nations League tussle with Spain in a strong position at the top of Group A4, but they were embarrassingly dismantled 6-0 by La Roja.
It was a night to forget for the Germans, with Tuesday's result piling even more pressure on beleaguered boss Joachim Low. Spain were able to exploit the gaps all evening and quickly raced into a 3-0 lead before half time.
Die Mannschaft seemingly adopted a different strategy for the second period, as they looked to press higher up the field and carry the fight to Spain more, but they were once again cut through at the back with alarming ease.
Spain cut through the German backline with ease | Soccrates Images/Getty Images
Yes, it ended 6-0, but perhaps the most alarming thing about the contest was that it could actually have been more. For Germany, they also failed to even manage a single shot on target throughout the whole match.
Die Mannschaft were desperate to hear the final whistle towards the end of the game, but Spain were far from content with their 5-0 lead and managed to add a sixth through Mikel Oyarzabal in the 89th minute. This strike meant that Germany had fallen to their worst competitive defeat, ever.
España 6-0 Alemania (FT) – Consideradlo como una pequeña venganza, @CBF_Futebol.
ES LA MAYOR PALIZA QUE SUFRE ALEMANIA EN TODA SU HISTORIA EN UN PARTIDO NO AMISTOSO.
? El 24 de mayo de 1931, Austria le ganó 0-6 a Alemania en Berlín en un partido amistoso.
— MisterChip (Alexis) (@2010MisterChip) November 17, 2020
Indeed, the Germans were beaten 6-0 by Austria in a 1931 friendly, while the last time they conceded six times was way back in 1958, when they were swept aside 6-3 by France at the World Cup.
The humiliating defeat to Spain was filled with needless mistakes and lapses of concentration, which Spain pounced upon time and time again, much to the frustration of Bayern Munich shot-stopper Manuel Neuer. The 34-year-old was seen yelling at his defenders after each goal, and quite rightly so.
The result also saw Neuer set a bit of personal history as well, conceding six goals for the first time in his career; on the night that he became Germany's most-capped goalkeeper.
?? Manuel Neuer's 96th international appearance…
Germany's most-capped goalkeeper ✅#NationsLeague pic.twitter.com/a05P6l1gPK
— UEFA Nations League (@EURO2020) November 17, 2020
Low's position as manager will come under intense scrutiny in the coming days, whereas Spain are flying again under former Barcelona boss Luis Enrique – and will undoubtedly be one of the favourites at next summer's rescheduled Euro 2020.