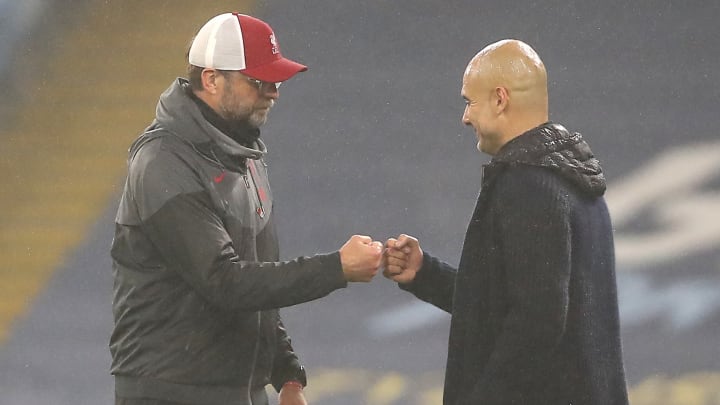 Pep and Klopp bump fists after City and Liverpool happily shared the spoils in their 1-1 stalemate | Pool/Getty Images
Weird.
That's one way to describe Manchester City's start to the season after a disappointing 2019/20 campaign yielded just their customary Carabao Cup.
The Cityzens suffered a premature exit from the Champions League, finished 18 points adrift of Liverpool in the Premier League and generally were not at the races (by their own ridiculously high standards, of course).
Fast forward to 2020/21 and City haven't really turned a corner. Sergio Aguero and Gabriel Jesus have spent time on the sidelines, and frankly Pep Guardiola's side look a little toothless and predictable in attack.
Following the departure of Leroy Sane, Raheem Sterling has failed to hit the ground running this season and has been frustrating | Visionhaus/Getty Images
It's a far cry from the past three Premier League seasons, when City basically couldn't stop scoring. But their pedestrian second-half display against Liverpool meant that they've now failed to score more than once in five consecutive Premier League games – for the first time in their history.
That sorry statistic, in a very brief, simplistic manner, sums up City's problems and points to a deeper issue that stretches far beyond a shortened pre-season, general tiredness, a lack of discipline and injuries to key players.
Though Ferran Torres has done incredibly well as a make-shift striker in recent games, he isn't the long-term solution and City need to strengthen when the opportunity arises next; something they decided against doing in the summer.
That, in hindsight, was an error in judgment, and should be top of City's to-do list when they next dip their toes into the market.
The problems aren't just up front, though. Undoubtedly, Guardiola's demeanour has changed, with the scars of last season's failings perhaps changing his footballing philosophy.
? Ferrán Torres has scored 3 goals in 3 group stage games for Manchester City ⚽️⚽️⚽️#UCL https://t.co/95rYl2e3v8 pic.twitter.com/5N9VUK0Wz8
— UEFA Champions League (@ChampionsLeague) November 3, 2020
City's Champions League exit in Lisbon last season again highlighted how Guardiola's chopping-and-changing policy has taken the club no further forward in Europe.
Deploying a 3-4-3 formation, with the ponderous Rodri and Ilkay Gundogan sitting deep in midfield, City were exposed, and it became more evident than ever that their defence is simply not up to it when the going gets tough.
It was a meek surrender against Lyon, and that's something we haven't witnessed from Guardiola's side in years gone by, even when they have been defeated. It was also a capitulation that, perhaps for the first time, showed Guardiola was not playing to his team's strengths, instead trying to cover and compensate for the weaknesses in his side.
Carrying on into this season, City have continued to be found out defensively. Walloped 5-2 at home by Leicester, they were forced to dip into the market to sign Ruben Dias from Benfica, in one final attempt to shore up things centrally. He's started off solidly, and alongside Aymeric Laporte, the foundations may be being laid for a more fruitful partnership.
But at what cost?
Nathan Ake and Ederson look on after Leicester's 5-2 drubbing of Manchester City in September | MARTIN RICKETT/Getty Images
The need to find a new Vincent Kompany-like figure has been to the detriment of their attack, and City are now finding out that resting on their laurels further up field was probably not the wisest of ideas.
They have the financial fire power, we know that, so why not pull the trigger? It's baffling that they didn't.
City failing to score with the regularity that they once did has turned the spotlight on Guardiola, and his sudden twist to a more pragmatic, conservative approach. At half-time against Liverpool, City looked content with a point; indicating that the Spaniard would rather avoid defeat than going all-out in search for a winner.
In years gone by, one of the key things that has separated City from the rest of the pack is their mentality and failing to settle for anything but a win. Is Guardiola scarred by Liverpool running riot last season? Maybe. Is that acceptable for the club's vision and identity? Most certainly not.
The fabric and makeup of the club revolves around winning and being the best, something that a lack of investment up front and change in approach goes against. Guardiola must find that ruthlessness again, and City's board must push him to do so – if they don't, they risk losing the identity they've worked on for a number of years.