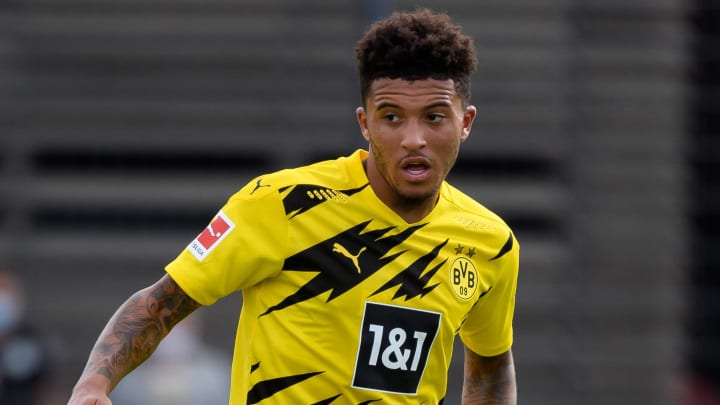 Manchester United still want Jadon Sancho | DeFodi Images/Getty Images
Manchester United are continuing negotiations with Borussia Dortmund over a blockbuster deal for Jadon Sancho, and they remain confident of being able to get a deal done over the line.
The Red Devils recently made a breakthrough with Sancho and his agents, finding agreements over the winger's personal terms and the fees owed to any agents in the deal, but the issue is that a transfer fee is yet to be agreed.
Personal terms are not expected to be a problem | DeFodi Images/Getty Images
Dortmund set an artificial deadline of mid-August for a deal to be completed, which obviously passed by with no agreement, and they have since publicly insisted that Sancho is going nowhere. However, a source has confirmed to 90min that United are not concerned and still intend to push on.
There's a belief that Dortmund will still sell if they receive an acceptable bid. The German side have held out for €120m and were always adamant that any side would have to pay that for a deal to go through.
United, on the other hand, were eager to avoid making Sancho their record signing and had instead stuck to a price tag of closer to €100m, but their standpoint was weakened by Chelsea's €100m move for Bayer Leverkusen's Kai Havertz.
Dortmund are using the Havertz deal as a base | Matthias Hangst/Getty Images
Dortmund believe that Sancho should be worth more than Havertz and they now have a concrete baseline from which they can base their demands, and United know they will have no choice but to exceed that fee to get a deal done.
While it's more than United wanted to pay, they remain confident that a deal can be agreed and have been encouraged by the fact that Dortmund have kept their line of communication open, despite publicly insisting otherwise.
A source close to the situation told 90min: "In terms of the fee, things are not finalised but just about everything else is done. And yes the deal is not done, but they are still talking and they both believe a deal is there to be done."
With a few weeks left in the transfer window, both sides believe there is plenty of time left to get a deal done, and United's focus will remain on the Englishman until the last second.
For more from ​Tom Gott, follow him on ​Twitter!