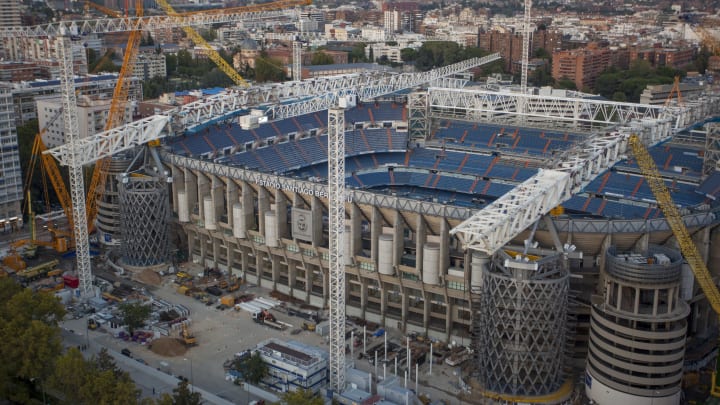 Fans of Real Madrid have been offered the chance to see what the club's iconic Santiago Bernabeu will look like once the ambitious renovations have been completed.
Los Blancos have been playing their home games at the Estadio Alfredo Di Stefano – the ground used by their reserve team – while the redevelopment has been taking place, with the renovation work understood to have cost as much as £700m.
The redevelopment hasn't ran as smoothly as the club had hoped at times, with a small fire breaking out inside the stadium just a few months ago. Luckily, no-one was harmed in the incident.
The makeover is set to be completed at some point in 2022, and Madrid fans have now been offered the chance to see just what their club's new home will look like next summer.
American firm Hetzel Design have created a video showcasing the futuristic design, with both the interior and the exterior of the stadium on show – to be honest it looks like some weird video they'd show on the Eurovision Song Contest but we'll go with it.
The video also shows the incredible retractable roof which will be added during the renovations.
The stadium will be a multi-purpose venue once the upgrade is completed, with music concerts and sporting events – aside from Real Madrid's home games – being hosted there.
While president of the La Liga giants Florentino Perez has yet to suggest the renovations could take longer than the current proposed deadline of summer 2022, recent pictures of the stadium indicate the date may be a little ambitious.
Madrid news outlet Marca have shared a video showing what the inside of Real Madrid's home currently looks like, and to say there's still plenty of work to do would be something of an understatement.