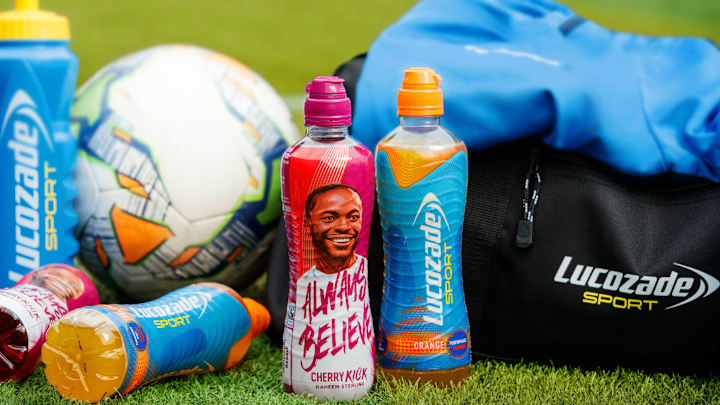 Raheem Sterling is the first England men's player on a Lucozade Sport bottle | Lucozade Sport
Raheem Sterling has become the first male footballer to feature on a Lucozade Sport bottle, following in the footsteps of his fellow England internationals Steph Houghton and Nikita Parris – the latter winning her first Champions League title last month.
The Manchester City and Three Lions star has teamed up with Lucozade Sport (the England's men's team's hydration partner since 2008) to launch its latest drink – Cherry Kick – which aims to inspire millions of people with an 'Always Believe' slogan featured on every bottle.
Wembley will be packed with fans cheering on Sterling once restrictions are lifted | Lucozade Sport
Sterling said: "Teaming up with Lucozade Sport, which has such a strong heritage in English football having worked with so many iconic players, is a brilliant moment for me. The drinks have always supported me throughout my career so to have my own Cherry Kick flavour with my face on the bottle feels surreal!
"Hopefully the message on the bottle – Always Believe – will inspire not just footballers but everyone to have faith in whatever journey they are on and achieve their personal goals."
The 25-year-old is likely to feature for England against Denmark on Tuesday night before preparing for a new season of Premier League football – which begins less than a month after Sterling's Man City side played their final Champions League game of the 2019/20 campaign.
Sterling scored the only goal in England's win over Iceland last weekend | Haflidi Breidfjord/Getty Images
In recognition of that, City have been given the first week of the season off, and won't kick off until 21st September against Wolves. That leaves them a generous (very, very relatively) 37 days between season end and season start, although the international break means the pre-season has been far from ideal.