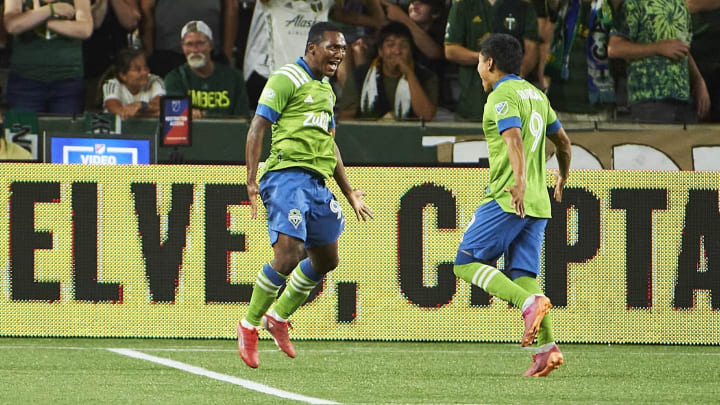 Another week, another bucket load of golazos in Major League Soccer.
With 27 teams now battling it out, it can be hard to keep up with every single ball kicked in MLS. Even so, there's always time in the day to watch a few stunners hit the back of the net.
So, without further ado, here are 90min's top five goals in MLS from Week 19.
Trust us, there are some serious strikes in this week's list, most of them coming from the Seattle Sounders. But first, let's appreciate something not so much for the finish, but for the assist that led to it.
Ola Kamara's 11th goal of the season (in just 718 minutes) was ultimately nothing more than a consolation effort as DC United went down 5-2 away at Nashville. Still, he showed incredible bravery surrounded by defenders and with Joe Willis coming out to meet him.
But this goal is all about Paul Arriola's beautifully chipped pass over the top to set Kamara away. The weight on this pass was absolutely perfect from the United States international, and one you could sit back and watch for hours on end.
Fredy Montero loves the Cascadia Cup. During spells with the Vancouver Whitecaps and Seattle Sounders, the Colombian has scored 15 goals against the teams involved in this three-way rivalry.
Obviously, he's back with the Sounders now and on Sunday, curled in a delicious effort with his left foot to double his side's lead against the Portland Timbers, having already netted the first himself 16 minutes earlier.
That's seven goals against the Timbers now for Montero, with only FC Dallas and Colorado Rapids (both 8) feeling his wrath more. But this is right up there with the best of them.
Like Kamara's, we're applauding the first of Taty Castellanos' two goals against Inter Miami on Saturday as much for the assist as for the finish itself.
Maxi Moralez might be advancing well into his 30s and slowing down, but he still has a touch of magic in his boots. And he showed it to full effect to deliver an inch-perfect pass over the Miami defence and onto the head of compatriot Castellanos. Credit also goes to the NYCFC striker for the smart movement and cool finish, too.
That's eight goals on the season for Castellanos and four in his last five MLS games, helping fire NYCFC to second in the Eastern Conference.
Not for the last time, we're back with the Sounders.
Just minutes after the Timbers had levelled at 2-2, Raul Ruidiaz lined up a free-kick on the edge of the box. For anyone who watches the Peruvian week in week out, or has been on the end of one of his maulings before, what came next was utterly predictable.
And yet it still left us dumbfounded as Ruidiaz put pace, power and precision all into one free-kick, leaving Timbers keeper Aljaž Ivačič rooted and helpless.
And yet, Ruidiaz doesn't claim top spot this week. He's bested by yet another Sounders goal, this time from Jimmy Medranda to make it 5-2.
This one had absolutely everything. The audacity of a defender to lit rip a volley. The satisfying noise as the ball smashed the underside of the crossbar. The fact it twisted the knife in a rivalry match.
What. A. Hit.
Medranda will never score another like that in his life.