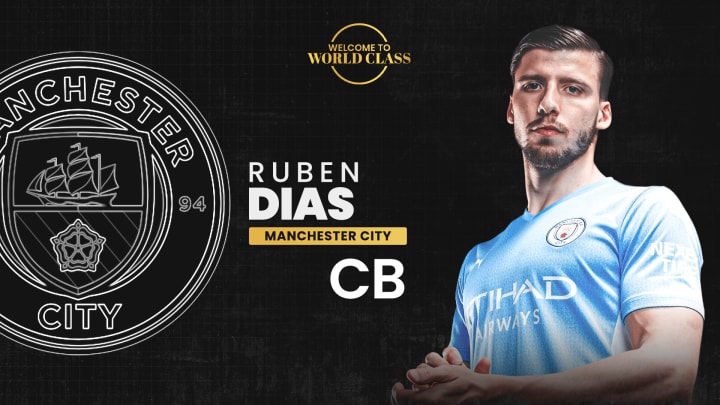 This article is part of 90min's Welcome to World Class series.
Manchester City under Pep Guardiola have, if we're honest, been frighteningly good ever since the Spaniard took charge of the club in July 2016 – you only need to look at the above to see what they've achieved.
But despite dominating the domestic scene, City, until last season, hadn't really come close to winning the one thing they've wanted to conquer ever since they were taken over by the City Football Group.
The Champions League.
Indeed, the furthest point City had reached in the competition under Guardiola was the quarter-finals (on three occasions), with a sole appearance in the 2015/16 semis under Manuel Pellegrini the best result the club had ever recorded on Europe's biggest stage.
That was until 23-year-old Ruben Dias, a relative unknown to many, arrived from Benfica in the summer of 2020 for a fee upwards of £60m.
Dias' arrival was initially panned by some as outrageously lavish spending, but it was quickly apparent that City had done their homework. Dias wasn't a defender ready to raise his game at City to an elite level, the Portuguese was already there.
Between January 1, 2021 and November 30, 2021, Opta stats show that Dias made more tackles, interceptions and clearances for City than any of Giorgio Chiellini, David Alaba, Antonio Rudiger, Thiago Silva, Raphael Varane, Virgil van Dijk and Sergio Ramos (the latter two were injured for lengthy periods of time, granted) achieved for their respective clubs across league, Champions League and domestic cup games.
He also completed 93.3% of the 3,977 passes he attempted in that time, and played 4,281 minutes of football – comfortably higher than any of the aforementioned selection of Europe's elite. Thrown in for good measure is the fact City kept 20 clean sheets in Dias' 50 appearances, a more than healthy ratio of 40%.
Dias' impact was not only felt on paper, though.
"The manager doesn't give you the role of a leader, it comes from inside in a natural way, if it's not real he won't be it and people realise it."

– Pep Guardiola on Ruben Dias
He naturally assumed the leadership role that had been vacated since Kompany's departure and ensured City put behind them the disappointment of losing the 2019/20 Premier League title to Liverpool, as well as the humiliating Champions League quarter-final defeat to Lyon that same season.
Dias restored a calm and authoritative approach to defending, crucially taking things back to basics in order to grind out positive results. He was the instigator of a change in fortunes and the player responsible for City again believing that they were the best in Europe, not just in England.
Ultimately, City came up short in their quest for Champions League glory, but reaching the 2020/21 final was huge progress and evidence of what Dias offered – and continues to offer – on the continental stage.
Dias won the FWA Footballer of the Year award, City's Player of the Year award and was nominated for the coveted 2021 Ballon d'Or as recognition for his efforts, but perhaps the biggest accomplishment of all is this – he's genuinely world class.