Cementing your place in the midfield of one of the world's biggest clubs is no mean feat.
However, to do it and become a mainstay in the team as they enjoy one of their most decorated periods in recent history – that's a whole new level.
Toni Kroos celebrated his 300th appearance for Spanish behemoths Real Madrid on Saturday evening, and while a drab 0-0 draw with Osasuna was hardly a fitting tribute to the German midfielder, the magnitude of his success in Spain shouldn't go unrecognised.
While Los Blancos are undoubtedly one of the most entertaining sides to watch from afar, being an avid follower of them must be like torture at times. have an uncanny knack of moonlighting as a footballing circus at times.
Yet, in the midst of all the turmoil, the drama and the upheaval, since 2014 Kroos has sat in the eye of the storm, providing a calming influence alongside Luka Modric as the pair have driven Real to glory. And what's best – they've done it in style.
Here at 90min, the German's quality and winning mentality doesn't go unnoticed, with Kroos named the top central midfielder in our the recent Welcome to World Class series – and yet, it feels like some football fans still don't truly appreciate his genius.
In fairness, the same could have been said of his midfield partner Modric a few years ago, though his Ballon d'Or award in 2018 is a pretty decent indication that he's no longer skirting beneath the radar.
Throughout Kroos' glittering career he's notched no fewer than five top-flight titles, four Champions Leagues, five FIFA Club World Cups, over 100 caps for his country and not to mention he was crowned a World Cup winner in 2014 – there really isn't much he hasn't done in the game.
However, despite the 31-year-old's trophy-laden 13 years in senior football, he's only once been named in the Ballon d'Or's top ten – having finished ninth in 2014.
It's almost as though the footballing world just doesn't get it?
Kroos is a throwback to days gone by where the world's top midfielders could do just about everything. He doesn't have to be played alongside a player who can do a specific job like tackle or pass or provide energy, simply because he does all of that himself – you don't have to take anything into consideration when picking his midfield partner, you just pick the other best midfielder in your squad.
Perhaps the reason he's gone so criminally underrated throughout his career is just through sheer bad luck.
During his time at Bayern Munich he shared the centre of the field with Bastian Schweinsteiger – a hero for both club and country.
Following his move to Real Madrid, the club announced the signing of the 2014 World Cup Golden Boot winner James Rodriguez in a deal worth a reported €80m (£71.5m), and during his time at the Santiago Bernabeu he's spent the majority of the time sharing a dressing room with the two of the three players to have been crowned Ballon d'Or winners in the last 12 years.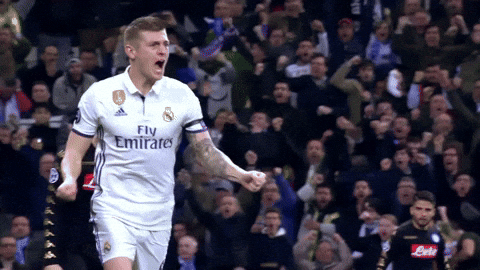 Whether the fact Kroos doesn't demand as much attention as some of his teammates is a factor in his ability to completely control matches, we'll never quite know.
But one thing's for sure – Tony Kroos is an absolutely superstar whose brilliance probably won't truly be appreciated until he's hung up his boots. But not by us – we see you, Toni.