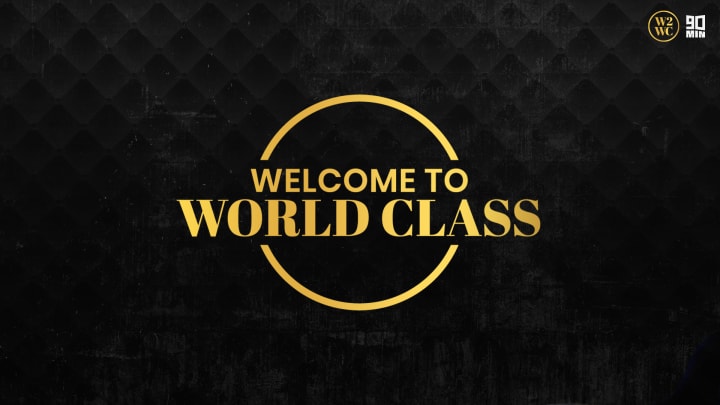 Welcome back. Welcome to World Class.
The second year of 90min's #W2WC series officially kicks off on Monday, December 13, and if you missed last year's edition and need some catching up on what this is all about, allow us a moment of your time.
We've been running this series informally for a few years now, though more of a topic of conversation among those in-house at 90min rather than anything serious. But it got us thinking – in football, what does world class mean? And how do you define it? Can you? Which players are? Which players aren't?
The term world class is thrown around frequently, often without thinking or in relation to an isolated moment. So we've devised some ground rules and a system to actually measure what makes a footballer world class, because we think it's an interesting point of conversation.
Plus, we bloody love ranked lists. And this is a series with loads of ranked lists.
By our reckoning, a world class footballer is defined as one of the top five players in the world in their position.
And we believe every top player in the game can fit the profile for one of ten on-field roles…
And it's our job to announce the lists. So stick with us, as we'll be doing so from December 13 through until Christmas Day.
We've collated every name of every player we can think of who's in with a shot, worked them into one fixed position based on their time on the pitch over the past year, and graded each player across ten different metrics we believe are essential when judging if a player is world class or not.
The metrics? As follows.
Every player we've considered has been scored out of 10 (or 15 in the case of form over the last year) in each category, by our global 90min team. We've taken perspectives from our teams in the UK, France, Germany, Italy, Latin America and Asia, crunched the numbers, and come up with our rankings – which we'll release every weekday for two weeks up until Christmas.
Our 90min team has put in the ground work, but we also want you, those who follow us on site and on our social channels, to have your say too.
We're going to put the debates of the day – usually a decisive one on which players make the final five in a certain position – down to you. We need you to get involved by placing your votes and sending your comments. Head to our global Twitter page each day to play your part. You can also hashtag #W2WC21 to get involved.
The conversation will also dominate our other social channels. You'll be able to catch the announcements on the 90min website and our Instagram page as well as Twitter, and we're even on TikTok and Facebook. And did we mention, if you're not an English speaker, you can also catch the series in French, German, Italian and some of our other editions too.
And if you're familiar with the 90min YouTube channel, you can catch some familiar faces there every weekday – as the guests discover the picks and have their say on the questions we'll be asking.
Welcome to World Class 2021 starts on the 90min website and social channels on Monday, December 13, and will run every weekday for two weeks in the run up to Christmas.
We'll round off with our Top 50 and World XI on Saturday, December 25.
We'd love you to follow us for the journey, place your votes and have your say wherever you can. Talk about it with your mates, debate with us, let us know your thoughts and above all…enjoy it with us.
Welcome to World Class.